Reviews - Helsingor

Title: Helsingor: The True Story of Hamlet and Horatio
Author: Kevin Roberts
Price: $20.00

Reviewed by: Gary Sorkin, Pacific Book Review
Written such as a period piece, Kevin Roberts transports you back to the days of olde in Helsingor: The True Story of Hamlet and Horatio. Helsingor is the original name of the Castle in Elsinore, just north of Copenhagen, where Hamlet, then Prince of Denmark resided. Not a sentence in his fictional novel stems from current vernacular, whilst he uses prose so skillfully it's like walking amongst the actors of a Renaissance Faire. In a rather light, whimsical fashion, the story is narrated by Horatio, with extraordinary descriptions of times and events of 17th Century England and Denmark.
Helsinger: The True Story of Hamlet and Horatio is creative, ambitious, and humorously almost a divine written piece of work capturing and embellishing the persona of characters we all have come to know through literature. Bringing more background and history to what we all have learned from William Shakespeare, Kevin Roberts creatively fills in his version of the history of this epic friendship. Brilliantly articulated with detail, using expressions and awareness common place to those who lived in that era, he brings alive to his imaginary world unforgettable circumstances. A lifestyle distant to our modern day, Kevin Roberts makes it all seem easy and credible with the skill of his quill scribing the sentences of his fantastic creation. More fun than a gurgling ale and pheasant served by a buxom bar maid, his characters come to life with profound realism. It made me think how, if you substituted cars for horses, and text messages for scrolled letters, people today haven't changed all that much. Curiosity, humility and most of all humor are still abound in one's thoughts with friendship lacing together our passion.
Kevin Roberts writes beautifully, but throughout his book he doesn't use quotation punctuation. I found the omission of quotes slowing me down at times, causing me to re-read a paragraph in order to catch the proper voice of the dialog. In fairness to this criticism, he spaces his dialogue appropriately, thus providing a necessary literary accent to his pages.
The book cover is of a texture of an olde leather bound book printed in the 1600's, with a wax seal. The most remarkable detail of such a fine masterpiece of time juxtaposition so well embellished with realism is the date of the copyright – 2010AD. I have found the work to linger in my mind, and certainly recommend this for all serious readers looking for something quite unique and tremendously enjoyable.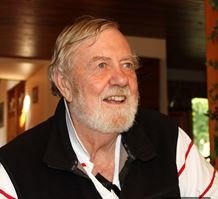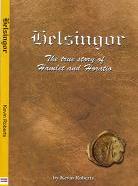 Order at Amazon -
Just Click
Kevin meets Hamlet & Hamlet meets Kevin.
You'll be surprised to learn what the Prince of Denmark is up to.
This wonderful read from Kevin Roberts tells all of us exactly what he sees when he dares to look a ghost in the face!