Encore Releases
- They're Back!!!

PHP wants our Authors to make their Back List connect to their Front List again.
It's a pleasure for Pilot Hill Press to bring these books back into print, e-books &...beyond.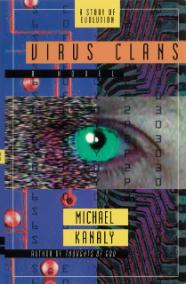 Virus Clans: A Story of Evolution
In this science fiction classic, master storyteller Michael Kanaly once again probes the deepest reaches of the universe—and the human experience. Virus Clans is the story of a research scientist on the verge of an extraordinary discovers: Certain viruses are no longer acting in a random way. In fact, they seem to be intelligently planning where and how to multiply. Yet intertwined in this powerful drama is the story of the virus clans themselves, spanning millions of years as they evolve and make their own extraordinary discovery: To be the perfect hosts, human beings will have to be changed.
"Frightening…It packs a chill found in some of horror master H.P. Lovecraft's classic 1930's tales...a chilling scenario of a universe in which mankind isn't the master of his own destiny but merely one more fleshy canvas upon which the all-powerful Virus Clans work their magic." -Orlando Sentinel
"An inventive, original concept… a very well written novel." - Science Fiction Chronicle
"Very interesting…Marvelous stuff. Great Story." - Analog
"An extremely fine writer, Kanaly reminds me of early Vonnegut…an exciting, innovative book, well worth the read. The suspense and jaw dropping insights continue to build." -Midwest Book Review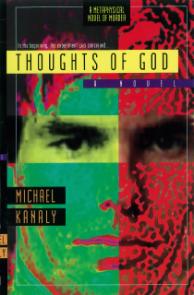 Thoughts of God is a novel unlike any you have ever read. It is a thriller—the tale of two modern-day hunters, one a killer of innocent children, the other the vigilante who vows to take him down. Yet it is so much more. It sees into the future and dwells on the past. It reaches into the galaxies of the universe to recount otherworldly struggles for life and death. And it takes you into the notebook of God, where questions—answerable and unanswerable—built to a dizzying climax of earthly justice and cosmic vengeance…
"Builds up a charge of tension that is impossible to ignore or forget… Kanaly revels in the freedom of science fiction…if the purpose of a novel of ideas is to force us to think about things we would rather not face, then Thoughts of God is a success."
-New York Times Book Review
"Fascinating.Fast paced and exciting…the tension is overwhelming."
-Orlando Sentinel
Send us an e-mail at:

bill.gough@gullpondbooks.ca